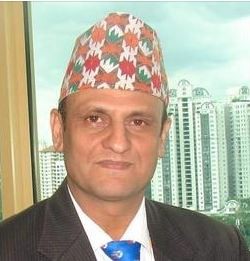 Bio-data of Charter President Manoj Kumar Kandel
Name:

Manoj Kumar Kandel

Nationality:

Nepali

Sex:

Male

Marital Status:

Married

Spouse:

PremKumariGautam Kandel

Date of Birth:

20 Jan 1970

Children:

Mamta, Manita, Pratima, Prativa (D), Meron (S)

Birth Place:

Tokarpur - 3, Ramechhap, Nepal

Mailing Address:

ManoramTole, 9, Katunje, Bhaktapur, Nepal.
Tel : +977 1 6611087, 4720422
Cell : + 977 985102137

Email:

lawyersnepal@gmail.com

Education:

L.L.M in Human Right and Gender Justice

Profession:

Advocate/ Social Worker

Language:

Nepali Mother/ Hindi, English
Current involvements:
Committee Member - High Level Children Home Monitoring Committee, Ministry of Women, Children and Social Welfare, Central Child Welfare Board, Pulchok
Country Representative - Frank Adoption Center, 2840 Plaza Place #102, Raleigh, NC 27612, United States
Lawyers Nepal Pvt. Ltd. (Law Firm), NarayanGopalChowk, Maharajganj, Kathmandu, Nepal
Chief of Editor- Nepali Shram Monthly
General Secretary- Democratic NGO Federation of Nepal (FEDEN Nepal), Brikutimandap, Kathmandu, Nepal
General Secretary - Child NGO Federation of Nepal (CNFN), Brikutimandap, Kathamandu, Nepal
Member - Advisory Committee of Children Home Federation Nepal
Member of Nepal bar Council
Member of Patan Appeal Court Bar, since 1991
Child Right Activist: Active participant in child related activities and forums
Chairperson -Ama Nepal
Owner - Kaichi Beauty and Wellness Club, Maharajganj, Kathmandu
Served As Legal Advisor and Consultant to:
- Life's Vision International
4580, Klahaine Drive SE# 114 Issaquah WA 98029 USA
- All God's Children International
3308 NE Peerless Place Portland Oregon 97232 USA
- World Child International
9300 Columbia Boulevard Silver Spring MD 20910
- De Colors Adoptions International
2615 Paul white road Lake Charles LA 70611
- Adoption Alliance
2121 Oneda St. Ste. 420 Denver CO 80224
-Future and Family Society of British Columbia
Adoption and Counseling services (CHOICES)
British Columbia V8W 2H2 Canada
-I colori del dondoonlus
Bari Italy
- Centro Adozioni La Maloca
Borsari, 23, Parma, Italy
- Founder Chairperson
Sagarmatha Children Home, Kaunje, Bhaktapur
- Coordinator
Adoption Watch Group, Child NGO Federation
- Promoter Board Member
Sahas Hydro Power Limited, Samakhusi, Kathmandu
Participation:
- Official Visit as a Nepal Government representative together Minister of Women, Children and Social Welfare MissPamphaBhusal on 2008 August 8 to 15 at Spain, Germany and Italy to monitor situation of adopted children from Nepal
- Council on Accreditation's conference focusing on accreditation and best practice on August 9 - 10, 2009 at Waldorf-Astoria Hotel, Park Ave., NYC, USA
- An International Workshop on Early Childhood Education for Children with Special needs on 2 - 20 March 2014 at The Golda Meir Mount Carmel International Training Center, Haifa, Israel
- An International symposium focusing on Achieving Child Permanency Through Innovation to be held in November 5 to 8, 2014 at Harvard University, Massachusetts USA organized by Both Ends Burning.