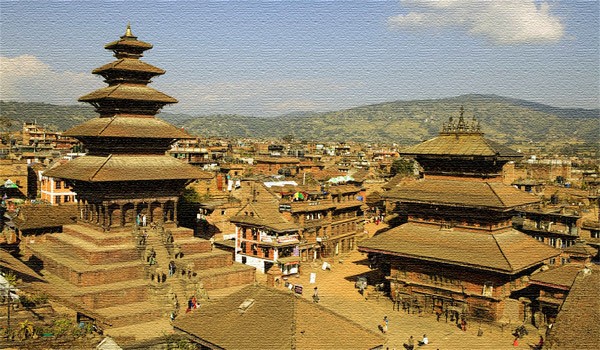 Background :
Bhadagon is lying at 12km east of capital city Kathmandu. It's conch shaped historic city is spreading over an area of 6.88 square km. Bhadagon was the capital city of the greater Malla Kingdom till the 15th Century. It is world renowned for its elegant art, fabulous culture, colorful festivals, traditional dances and indigenous life style of different people of different religion. This ancient city is also variously known as the city of culture and living heritage. Consequently, the city have also inherited a long history of craftsmanship. In addition, the home-spun haku-patasi( Black sari) and the delicious Juju Dhau, Literally the " king of all yogurt varieties"' have also made the city a favored spot for tourist and the Nepal.
The ancient ritual dances and festivals are still observed by the locals with the same fervor and enthusiasm as their ancestors did century ago. Bhadagon has it's gem in Durbar square and Changu Narayan Temple a world heritage site listed by the UNESCO. Stretching all along the township, the panoramic Himalaya levitates in the skyline as if to keep vigilance on the city beauty.
Bhadagonis even known as the most popular urban region. Bhadagonhas been important economically, administratively, and politically for hundreds of years. With its ancient monuments scattered around, Bhadagonis an emerging city where several plans and concepts have been implemented for its development. Like many cities of the developing world, the city has been facing rapid population expansion, daunting socio-economic problems and issues of inadequate urban management of expansion, including poor infrastructure and squatter settlements, with severe environmental consequences including air, water and other forms of pollution.
Issues and problems at Bhadagon:
Social problems have been a part of society for thousands of years in Nepal. Some have vanished over time while others have uprooted to accommodate with the changing times. Different Districts share similar social problems as well as different ones. Bhadagon has a lot of social problems. Since there is a lot of land, a vast majority of different cultures have settled here. As a result of all these different cultures colliding, social problems are common. Poverty is one of these problems. The challenges and opportunities in Bhadagonhave attracted people from different parts of the country.
Other Most highlighted problems:
Gender Discriminations
Issues concerning cultural and heritage sites in Bhadagon.
Environmental health effects of brick Kilns
Air pollutions
Deterioration of the river quality for example Hanumante River
Araniko Highway is known as one of the most dangerous roads and there are not any emergencies services for the accident nearby.
The emergence of urban slums and squatter settlements in the city is relativelynew and still small in size compared with other cities
Solid waste disposal used to be a major problem in the city
Urban development is taking place without adequate planning or provision of transport infrastructure, and with inadequate consideration of the nature and composition of the traffic.